A multi-vehicle wreck in Raleigh on I-540 Tuesday morning has resulted in serious injuries to several people and has now claimed one life.
The wreck was near the intersection of I-540 and Glenwood Avenue and apparently happened when two vehicles collided in the eastbound lanes sending one of them over the median and into on-coming traffic.  At that point, the vehicle hit an oncoming car, bounced off the guardrail and hit yet another car.  At some point during the wreck, a tanker truck ended up on its side..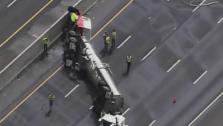 Click here for more on this terrible wreck.